LeChase has again been recognized for work on the JB Duke Hotel and Thomas Executive Conference Center. On March 21, the company received a Pyramid Award from the Associated Builders and Contractors (ABC) organization at the 28th Excellence In Construction Awards® Gala in Long Beach, Calif.  Previously, the project had received an EAGLE Award – the highest regional ABC honor – which qualified it for the national awards competition.
The Pyramid was awarded in the category of General Contractor – Renovations between $10 million and $100 million. "We are proud to be among the companies recognized for excellence in construction at the national level," said Seth London, LeChase vice president in the southeast. "This project went beyond being a renovation and addition – it completely transformed the facility into a modern, multi-use space that will serve Duke University and the community for years to come. This was an exceptional project and project team."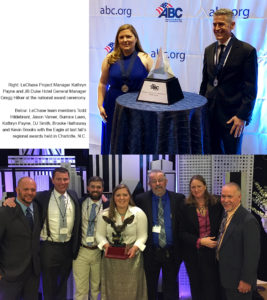 The hotel and conference center is located on a three-acre site in the heart of Duke's west campus. Starting with the original cluster of three 1980s-era buildings, the project completely reinvented the facility and almost doubled its size. Work, completed over two years, covered 117,341 SF in renovations and 90,457 SF of new construction. Today, the new facility includes 198 guest rooms, two boardrooms, four large meeting rooms, two 65-person tiered classrooms, a 200+ person restaurant/dining room, two bars, a 20,000 SF lobby and a 5,450 SF ballroom that can hold 784 people or be broken into five smaller configurations.
LeChase Project Manager Kathryn Payne and JB Duke Hotel General Manager Gregg Hilker accepted the Pyramid Award at the national ceremony on behalf of the project.
Congratulations again to the LeChase project team of Payne; DJ Smith, general superintendent; Jason Varner, superintendent; Kevin Brooks, MEP project manager; Todd Hilderbrant, MEP superintendent; Burnice Laws, assistant superintendent; Brooke Hathaway, regional EHS manager; Dee Richardson, project administrator; Lester Brown, foreman; Marco Cervantes, foreman; and everyone who played a role in making this project a success.