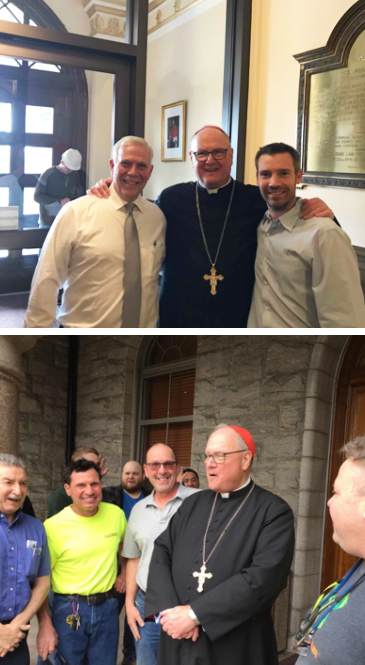 Monsignor Peter Vaccari, the Rector at St. Joseph's Seminary in Yonkers, found a special way to show appreciation for the work LeChase has been doing at the facility. The monsignor arranged for the project team to meet a special guest: Cardinal Timothy Dolan of the Archdiocese of New York. "The seminary had been buzzing with activity and events all week in preparation for Holy Week and Easter," explained Project Manager Chris Strebel. "Cardinal Dolan was on site honoring St. Jean Vianney – the patron saint of parish priests. It was a very exciting day and our team was appreciative of this special opportunity."
LeChase has been working on electrical and mechanical infrastructure upgrades at the seminary as well as the boiler plant that provides steam heat and hot water to the campus. Part of the project includes adding a backup generator and a new chiller to bring air conditioning to several areas of the main building.
Top photo: Cardinal Dolan with Project Executive Stephen Strebel (left) and Project Manager Chris Strebel (right); bottom photo: Superintendent Kevin Chmielnik (gray shirt with glasses) and other project team members meet the Cardinal.