One of the nation's best specialty cheese producers, BelGioioso Cheese has operated in the Schenectady area since purchasing the Cappiello local dairy plant in 2011. Now, the Wisconsin-based company is expanding its New York production with a new 100,000-SF cheese manufacturing plant in Glenville.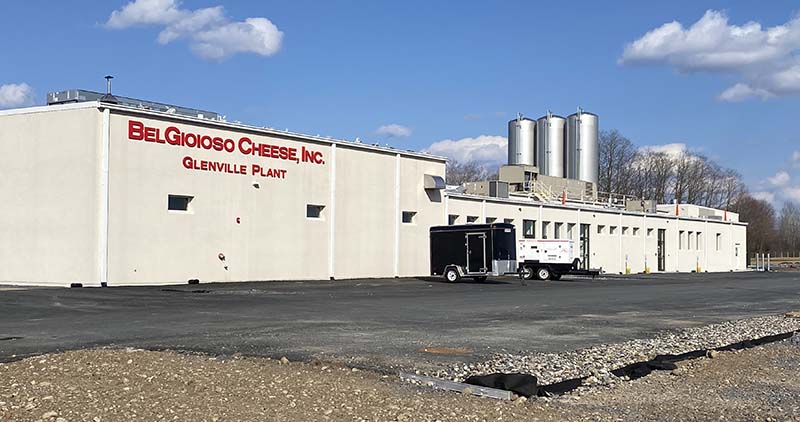 LeChase, serving as BelGioioso's construction manager, was in many ways the right partner for the project. Both companies started as family businesses and continue to maintain a personal commitment to quality. In addition, LeChase provided a local presence for its out-of-state client. It also brought expertise in process industrial construction as well as concrete and precast construction, which was the basis of the structure.
Upon award, the two companies quickly began collaborating. LeChase travelled to Wisconsin to gain first-hand knowledge about BelGioioso's corporate philosophy and process requirements. This enhanced the project team's ability to develop a comprehensive plan to meet the high standards and aggressive schedule required for the new Glenville facility.
Aligned with BelGioioso's preferred building methods, precast concrete was used for the building's columns, beams and roof – providing a large, open floor plan for manufacturing. All concrete and precast components received an FDA-approved water-proof coating after installation. This will provide superior moisture resistance over the structure's life span.
Inside the building, LeChase coordinated all of the utilities needed for manufacturing, including systems for chilled water, process waste, steam, HVAC, and refrigeration. LeChase approached these components as it would a design-build project, working collaboratively with the owner, architect and mechanical/electrical/plumbing partners to simultaneously proceed with design and construction.
Given this approach, the project team successfully completed the facility in February 2020 – less than a year after starting construction. Building upon that success, BelGioioso recently produced its first vat of cheese at the plant. Going forward, the Glenville site will produce a variety of products from BelGioioso's national and international award-winning portfolio of more than 30 cheese varieties.