The team working on the Chiller Plant 3 project at Duke University reached a major milestone on April 20, with the plant producing chilled water for the first time.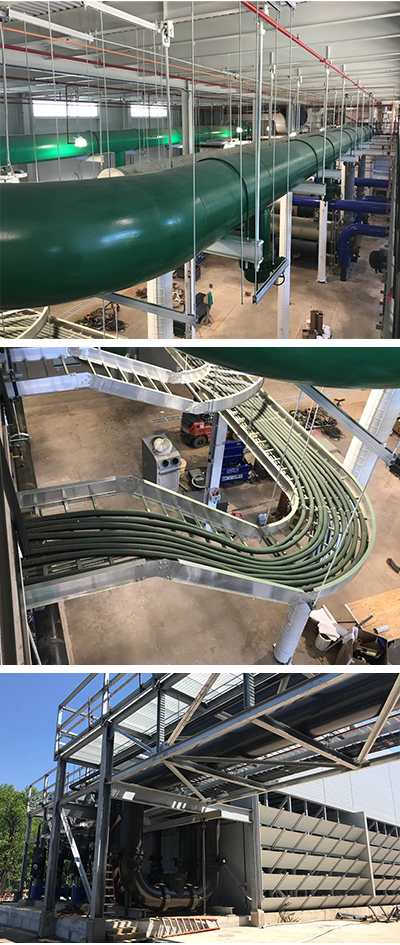 Chiller Plant 3 will expand the University's ability to produce chilled water for cooling campus buildings including the medical center and accompanying research spaces. Its inaugural start-up occurred about two weeks ahead of schedule, despite a variety of changes to the project since construction began in March 2019.
"I want to thank the entire team for their commitment and willingness to do whatever needed to be done," said LeChase Superintendent JD Coomer. "Everyone on this project has worked hard and been committed to the project and to each other."
LeChase is construction manager for the plant. Phase 1 – on track for completion this summer – will provide capacity to deliver 7,500 tons of chilled water. Future phases of the project will further expand Duke's chilled and hot water capacity.
Photos at right:
Top: A view of the chiller bay. The green 42-inch-diameter pipes supply water to the chillers.
Center: A tray of armored cables that supply power to three exterior cooling tower cells and condenser water pumps. The cooling towers and pumps are integral components for chiller operation.
Bottom: An outside view of the 42-inch-diameter condenser water pipe on the catwalk and, at right, two of the three cooling tower cells. The condenser water pumps are at lower left.