LeChase has earned a national Eagle Award from the Associated Builders and Contractors (ABC) of America for the renovation of Duke University's historic Crowell Quad. ABC will present the Excellence in Construction (EIC) award at its 2020 convention in Nashville, Tennessee, on August 18.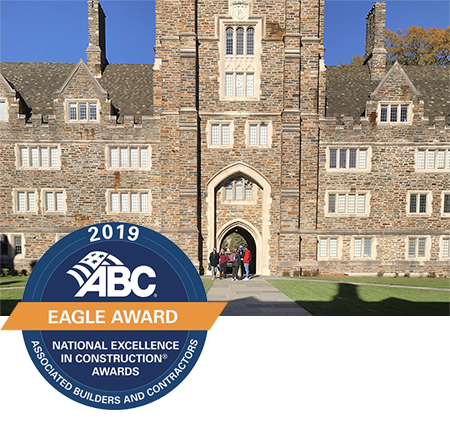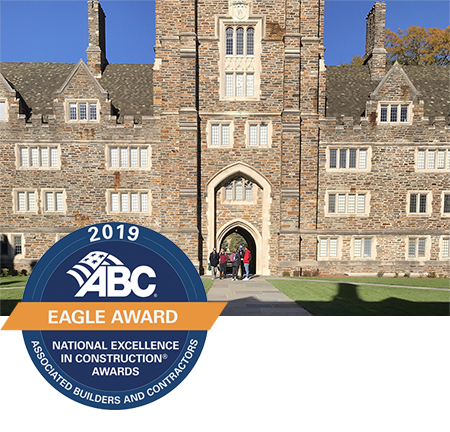 The Eagle is the highest honor in an EIC project category. Crowell Quad won in the category for Historical Restoration/Renovation between $25 million and $100 million.
"Our partnership with Duke University reflects a shared commitment to delivering excellence, and we are honored ABC has recognized this project for excellence in construction," said Seth London, LeChase vice president.
One of the original housing units on the iconic Duke University campus, Crowell Quad had seen little modernization over its 90 years. This project successfully preserved the building's historic Gothic exterior while transforming the living spaces within.
"Thanks to everyone involved in this project, Crowell Quad will continue to serve the Duke campus for many years to come," said Jack Goodrich, LeChase vice president. "The team's attention to detail was key in preserving Crowell's unique facade, while providing students with modern amenities inside."
The EIC award honors all construction team members, including the contractor, owner, architect and engineer. Winning projects are selected from entries across the nation. Judging criteria includes complexity, attractiveness, unique challenges overcome, completion time, workmanship, innovation, safety and cost.
"The craftmanship of LeChase and their hardworking employees continues to raise the bar when it comes to how we define excellence in construction," said 2020 ABC National Chair Tim Keating, owner and president of R.C. Stevens Construction Co., Winter Garden, Florida. "It's an honor to recognize these award winners for their respective commitments to building safely, on time and on budget, as well as contribute to the communities in which they work."
This year's panel of judges included representatives from Building Owners and Managers Association International, Smithsonian Facilities Construction Division, Construction Management Association of America, Engineering News-Record, Design-Build Institute of America and various construction-related firms nationwide.
The Crowell renovation has also received a number of regional honors – including General Contractor Project of the Year – in the ABC Carolinas' Excellence in Construction competition last fall.
A full list of national EIC winners is available on ABC's website. Click here for an article in GroundBreak Carolinas about Eagle winners the Carolinas.