Last Thursday, February 9, the LeChase Southeast team held the second Field School session. The 12-part series, which kicked-off last month, aims to create unity and share knowledge between the regional team members.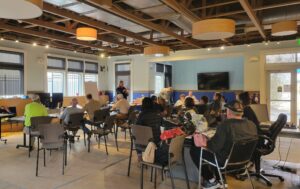 This session led by Brooke Hathaway – former LeChase Regional Safety Manager in the Southeast – focused on safety culture. Rather than speaking on "how to be safe," Hathaway spoke on how to encourage others to take action and continue to be safe. To emphasize how communicating safety values within a team can drive results, Hathaway shared this analogy: At 211 degrees, water is hot. At 212 degrees, it's boiling. And with boiling water, comes steam. And with steam, you can power a train.
The group shared stories of past experiences and how those experiences changed their views on specific safety measures. They discussed what makes up their safety culture, safety values and the importance of not compromising when it comes to safety.