Buffalo, N.Y., Nov. 8, 2022 – LeChase today announced the opening of its newly relocated Buffalo area office at The Pardee, 451 Elmwood Avenue, Buffalo. The new location is part of Elmwood Crossing, a project LeChase completed in the summer of 2021 on the site of the former Women & Children's Hospital. Compared to LeChase's previous location on Genesee Street across from Buffalo Niagara International Airport, the new office will provide a more efficient layout to accommodate the firm's local staff of 30 people.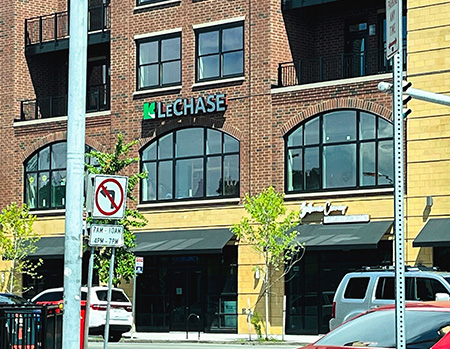 "Over the past 25 years, LeChase has continuously enhanced our presence in Western New York, and we decided we wanted to be located in the heart of downtown Buffalo in a space that we built," said Jeff Panza, LeChase's regional operations manager. "Elmwood Crossing is quickly becoming a signature project for us in the downtown core and our new space also allows for future expansion."
In addition to Elmwood Crossing, LeChase projects now underway in the Buffalo area include Niagara University's Kiernan Center, University at Buffalo's Crosby and Foster Halls, and the John Kam Malt and Kiln House. Notable recently completed projects include the M&T Bank Tech Hub at Seneca One Tower, the mixed-use facility at 500 Pearl, the multi-use property at 478 Main Street, and the restoration of the historic Bent's Opera House in Medina.