Rochester, N.Y., June 16, 2020 – LeChase Construction Services, LLC is pleased to announce that General Counsel Tom O'Gara and Regional Operations Manager Jim Scheirer have both been promoted to the role of vice president.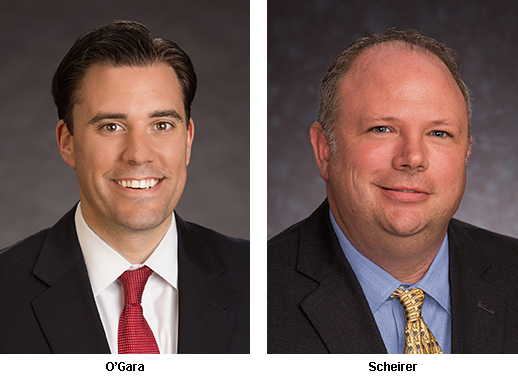 O'Gara joined LeChase as general counsel in 2017 after almost a decade of experience in commercial litigation, contract law, insurance, surety law and general construction matters. He had previously served as a partner at a Rochester-area law firm where he represented LeChase as outside counsel on several legal matters. O'Gara received his Juris Doctor cum laude from Albany Law School of Union University, and his undergraduate degree in political science from Siena College.
Scheirer began his construction career in 1996 and joined LeChase as a project engineer in 1998. After a series of project management roles, he was named a project executive in 2014, and appointed a regional operations manager in 2019. In that role, he works to expand LeChase's business in the Rochester region, managing a core set of client relationships within the health care and commercial sectors. Scheirer has a B.S. degree in civil engineering technology from Rochester Institute of Technology.
"Both Jim and Tom reflect the values and work ethic of our organization, and have consistently worked to elevate our business and culture," said LeChase President William L. Mack. "Over the past two decades, Jim has helped build relationships with many of our clients in the Rochester area. While Tom has only been with us for a few years, he has already made strides in strengthening our internal capabilities in several key areas including contracts and risk management."