On November 4, Niagara University held a topping off ceremony for its Kiernan Recreation Center renovation project. LeChase representatives and other attendees signed the final beam, then watched as crews hoisted it into place atop the project's two-story addition.
The 18,000-SF addition will house a new weight room, sports medicine suite, dance studios, storage, locker rooms, meeting space and recreation offices. LeChase is general contractor for the project, which also includes improvements and infrastructure enhancements to the existing facility.
The project kicked off with a ground breaking ceremony in July. Work should be complete by the fall 2022 semester.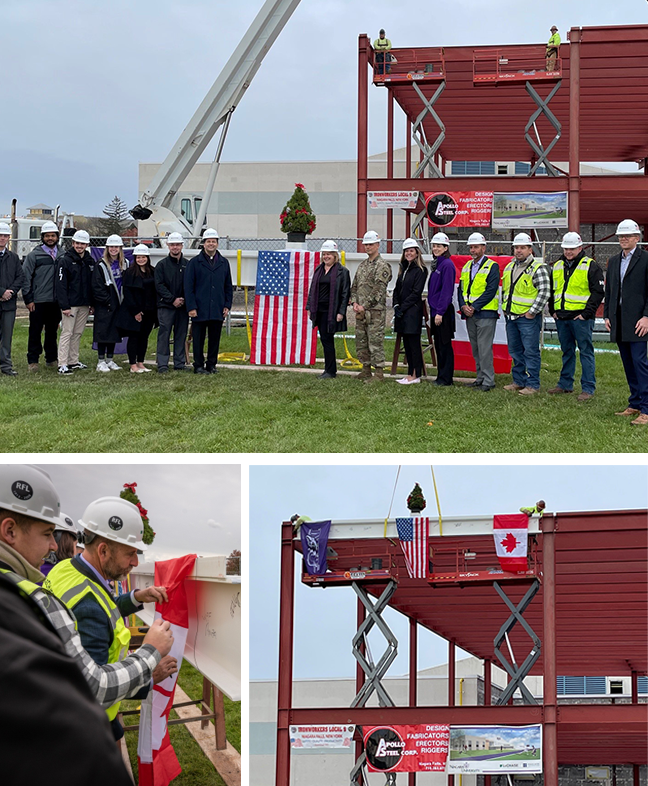 Top photo: LeChase Regional Operations Manager Jeff Panza (4th from right), Superintendent Tom Lattanzio (3rd from right); Project Executive Nate Scheffinger (2nd from right), and Business Development Manager Patrick Griffin (far right) at the ceremony.
Bottom photos: At left, Lattanzio and Panza sign the beam, which is later hoisted into place (right).