LeChase is among New York State's Top 10 contractors, according to an annual listing compiled by the industry publication ENR New York.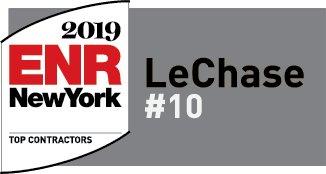 The publication ranks companies based on revenue from work done in New York and New Jersey during the prior year. LeChase is at #10 – the same position it held for 2018. In an associated list looking at New York State revenue alone, LeChase comes it an #9.
Earlier this year, LeChase moved up to #98 on ENR's listing of the Top 400 Contractors in the U.S.