On March 25 at the Strong National Museum of Play, LeChase hosted a new "Careers in Construction" patch program in partnership with the Girls Scouts of Western New York.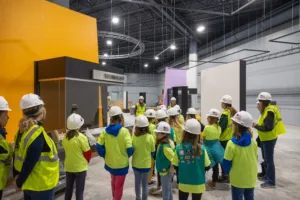 LeChase Project Engineer Laura Sapienza kicked-off the event with an interactive presentation about the basics of a construction site, teaching the girls about project site safety and the types of jobs available in construction.
The 60 girls who attended– from local Daisy, Brownie and Junior troops – participated in construction-based activities like building a toolbox, decorating a hard hat and making "concrete" slime. The girls then took a tour of the 100,000-SF museum expansion site, led by Project Executive Kailly Mintel and Project Manager Courtney Lafferty, where they learned all about the construction process and what the new parts of the museum will look like.
The event was a great opportunity for the scouts to get a glimpse into the construction industry and the many different career paths it offers.
Click the following links for additional news coverage of the event: