During renovation, Marshall Hall – at the SUNY College of Environmental Science and Forestry ­­– has been more than a jobsite. It's also providing a basis for case studies, field trips and research for the school's Sustainable Construction Management Program.
LeChase is serving as on-site representative for the State University Construction Fund on the project, which began last fall. Since then, Project Manager James Mulherin, Superintendent Matthew Herbert and Project Engineer Liam Rodgers have regularly hosted tours and site visits to help give students insight into real-world construction methods, materials and challenges.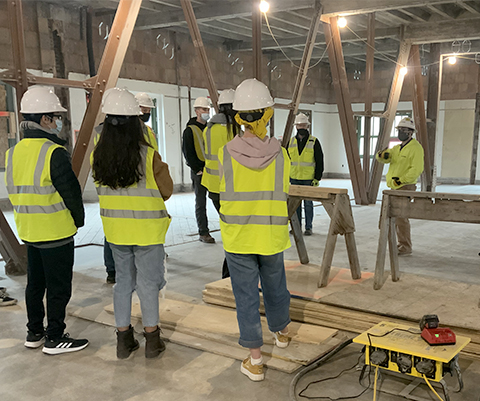 For example, students in Dr. Paul Crovella's Engineering Materials for Sustainable Construction class observed demolition work as well as new walls being framed and roughed-in with mechanicals. Mulherin and Herbert, both ESF alumni, described the uses and installation of various materials. They also discussed the challenges of working on older structures like the 1930s-era Marshall Hall. The renovation is incorporating new elements like modern windows and MEP (mechanical, electric and plumbing) systems. It also includes upgrades for ADA accessibility. At the same time, workers are saving and re-using original finishes – such as wood and terrazzo flooring, copper fascia, molding and historic lighting – where possible.
Faculty members have even used the jobsite to test an emerging artificial intelligence technology called OpenSpace software. Using a camera attached to a hardhat, the smartphone app captures 360-degree images as a user walks the jobsite. The resulting images, posted online, allow off-site stakeholders to monitor progress or resolve field issues. Students from the Building Information Modeling for Construction Managers class used the program to capture in-progress images of the Marshall Hall project.
With work continuing to the fall of 2022, there's time to provide additional learning opportunities next semester. The SUNY staff and faculty have been grateful for LeChase's efforts. Likewise, LeChase team members appreciate the chance to engage with a new generation of construction professionals.