LeChase continued the celebration of its 75th anniversary with a reception in Ithaca on August 27.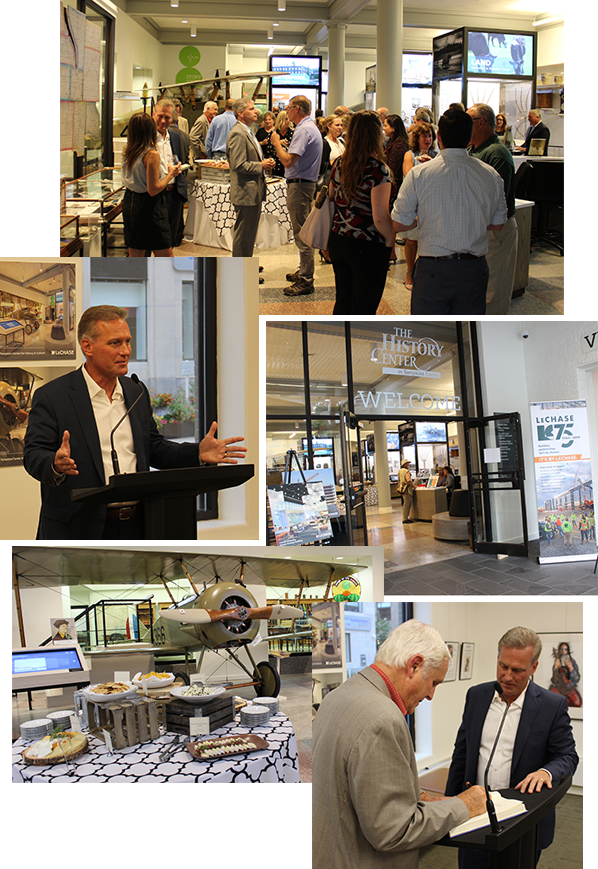 The event was held at the Tompkins Center for History and Culture (TCHC). It was a fitting venue. LeChase recently worked with Travis Hyde Properties on renovation of the center, located in the historic Tompkins Trust Building. The building served as the bank's headquarters for decades until Tompkins relocated in 2018 to the new Tompkins Financial Corporation Headquarters – another LeChase project.
During the event, guests browsed exhibits, photographs, maps and interactive displays at the center while enjoying refreshments.
LeChase CEO and Managing Partner Bill Goodrich thanked the crowd for their partnership and talked about the company's history. That history spans 30+ years in Ithaca, with a resume that includes:
more than 60 projects at Cornell University
more than 15 projects on the Colgate University Campus
Harold's Square, a mixed-use project currently underway for McGuire Development
Several projects for Tompkins Financial Corporation, including the new headquarters
Several projects for Travis Hyde, in addition to the Tompkins Center
Mark Travis, founder of Travis Hyde Properties and chair of the TCHC project leadership team and project advisory council, also addressed the crowd. Afterwards, he presented Goodrich with a copy of his latest book, which chronicles development in Ithaca since the 1970s.