On November 23, the Halfmoon-Waterford Fire District broke ground for a new fire station. LeChase – general contractor on the project – participated in the ceremonial event, which followed social distancing guidelines.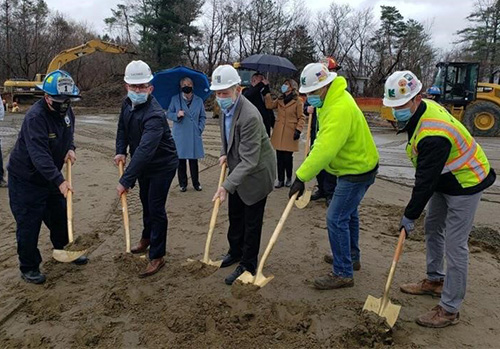 Attendees included Fire District Commissioner John D'Alessandro and other fire department members, Assembly Member Mary Beth Walsh, Senator Daphne Jordan, Halfmoon Supervisor Kevin Tollisen and H2M Architects team members. Project Manager Anthony DeSousa, Superintendent Mike Jacobs and Account Executive Mike Corey represented the LeChase Schenectady office.
The project team will construct a temporary firehouse, demolish the existing facility and then construct a new 18,000-SF firehouse. When the new firehouse opens in winter 2022, the temporary facility will become a pavilion.