The Associated Builders and Contractors (ABC) Carolinas has given Brooke Hathaway its 2020 Safety Champion award. Brooke, who is LeChase's southeast regional safety director, accepted the honor at the organization's recent 2021 Construction Convention.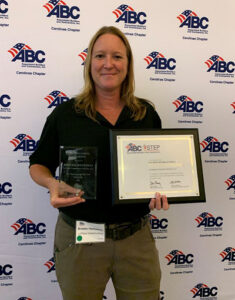 The ABC gives the award "to a member who has gone beyond the call of duty in support of our safety platform. A member who has embraced safety as a top priority and offered guidance to others including ABC staff."
Congratulations to Brooke, and thanks for her dedication to ensuring safety always comes first!