Regional Connections
North Carolina

In North Carolina, as across the U.S., people are concerned about the impact steel and aluminum tariffs will have on construction. In reality, we constantly monitor a variety of factors that can affect pricing, schedules and skilled labor. Tariffs are just a new part of a mix.
As an example, the Associated General Contractors noted that the cost of all goods used in construction recently showed the steepest increase in seven years, rising 8.8% between May 2017 and May 2018.  That includes a 17.3% increase for milled aluminum and a 10.5% rise in milled steel. In addition, lead times for materials are increasing and some materials, such as drywall, may be allocated to ensure supply across contractors.
Tariffs and other headwinds shouldn't be cause for panic, but they should be motivation for making the most of a project's preconstruction phase – something we are strongly urging clients to do.
First, work closely with your preconstruction manager to ensure the initial project plan is complete, accurate and achievable. Our preconstruction managers work with owners and the construction team to create a phased schedule that allows the team to effectively anticipate and predict cost escalation risks. It's also critical to be accurate and detailed in defining the scope of work subcontractors will bid on. This avoids changes – and unexpected costs – later in the project that will be priced at higher levels.
Next, start preconstruction as early as possible. This provides several benefits. It accommodates longer lead times for materials. It also provides an opportunity to enter contracts and lock in pricing for materials when costs are rising. Starting early also provides time to look at alternative methods or materials that could deliver a desired result faster or less expensively.  For example, if there's uncertainty about the impact of tariffs on structural steel costs, could concrete – which uses much less steel material – be a suitable substitute in some situations?
Finally, while responsible contractors will work to remain competitive and fair, no one can anticipate every eventuality.  That's why, today, we recommend that owners consider setting aside a contingency to offset the risk of tariffs or other issues.
From my career in construction, I can say there will always be headwinds – just as there will always be compelling projects worth building despite them. Now, more than ever, the preconstruction phase – with a team who can offer information, ideas and options – is critical to position those projects for success.
Hurricane Florence Update

The Cypress of Raleigh is a continuing care retirement community that opened in the late 2000s offering 168 condominiums in three villas, 37 standalone cottages, a club house and a health center. Today, LeChase – including some team members who helped build phase 1 – is completing construction of a fourth villa with 57 additional condominiums.
The new building is a cast-in-place concrete structure with a steel-and-wood truss roof system and an exterior that features masonry, siding and shingles. It was designed to look similar to the earlier villas; however, improvements in materials over the past decade have enabled some enhancements. For example, improved energy efficiency allows for larger windows to bring more daylight into the units. More decorative balcony railings are also available, adding extra visual interest to the building's façade.
Inside, each condo can be as unique as its owner, and LeChase meets with buyers to discuss options for personalizing their interior space.
QUICK FACTS
116,000 square feet of new construction on a three-acre site

Houses 57 condominiums, each ranging from 1,368 square feet to 2,152 square feet

Started: March 2017

Completed: September 2018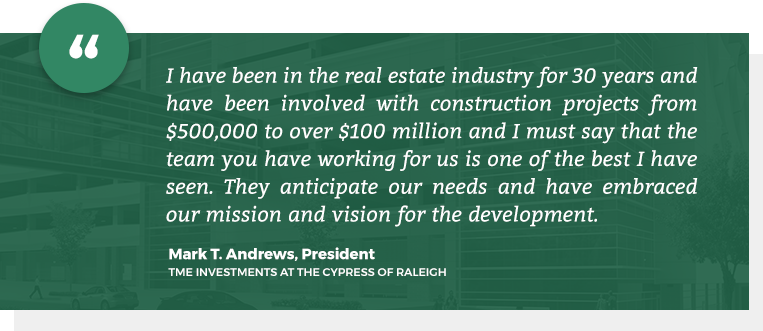 Duke University currently operates two chiller plants that use 14 miles of pipe to distribute 42,000 tons of cooling capacity to the west and east campus. With growing demand, a project to expand Chiller Plant 1 has evolved into construction of a third plant more than double the size of the once-planned expansion. When completed in 2020, Chiller Plant 3 will be a signature building at the edge of the new central campus, and will provide high-efficiency, low-carbon energy for the University's expanding footprint.
The shift to new construction extended the project's schedule; however, the change is providing time for LeChase – acting as construction manager – to work with the Duke's utility group and designers on preconstruction planning for the new plant. By providing conceptual pricing and constructability information for various design options, LeChase has helped the owner make educated decisions – for example, how to best break the work into phases to accommodate both near term-term and future needs. The team has also been able to engage the mechanical subcontractor early in the process to work with the design team on creating the most efficient structure possible.
Today – working through various options and changes – the project team remains on schedule to deliver a plant that will meet the University's needs as its campus continues to grow.
QUICK FACTS:
Currently in preconstruction
Construction expected to start in January 2019
Substantial completion by summer 2020
Phased approach:

Phase 1 covers improvements to 7.38-acre site; 2-story building delivering 7,500 tons of chilled water to the medical center and schools of medicine and nursing, with space to add future capacity; 1-story building to house electrical switch gear and materials.
Phase 2 will add more chilled water capacity, as well as a heat recovery system generating hot water, to supply planned redevelopment on central campus.

Full project: 46,422 square foot, two-story building capable of providing

22,000 tons of chilled water capacity
60 MMBtu of hot water capacity

The University of North Carolina at Chapel Hill is one of the nation's most historic campuses, and buildings like the Everett and Lewis Residence Halls – which date back to the 1920s – are part of the school's signature style.  That doesn't mean, however, that students living there shouldn't expect a modern and comfortable living environment.
The buildings have gone through several renovations over the years, and now LeChase is providing construction services to make them more energy efficient and provide better climate control for the student residents. Current renovations include replacing and upgrading the existing HVAC systems, installing new outside air handling units and ductwork, upgrading existing fire alarm systems and replacing existing windows with new energy efficient versions that meet current University standards. Of course, the replacement windows were carefully selected to blend with the buildings' classic style.
The project, which has been underway since the students moved out in May, was completed in time for fall semester move-in.
QUICK FACTS
$4.7 million project

Location: Northern campus, Lower Quad

Total of 98 dorm rooms (49 in each building)

Current renovation started: May 2018

Completed: August 2018