The Sano-Rubin team has relocated to LeChase's Schenectady office located at 220 Harborside Drive. The move, which happened this month, represents the next step in the Sano-Rubin acquisition that took place in April last year. It follows the recent announcement of LeChase and Sano-Rubin's first joint project, renovating Nugent Hall at Rensselaer Polytechnic Institute.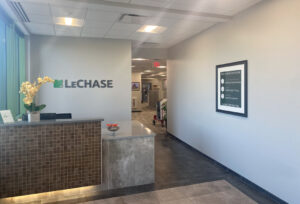 "The Capital Region is burgeoning with opportunity and LeChase is poised to aid in the community's rapid growth. Integrating the Sano-Rubin and LeChase teams is critical to supporting our ambitious goals for the region. I look forward to seeing everyone together in our new office space as we continue to merge operations and move forward as one team," said LeChase Vice President Dave Hollander, who previously served as president of Sano-Rubin.
LeChase moved to the Harborside Drive location in 2018. The firm was involved in constructing the office building as well as other nearby Mohawk Harbor projects.