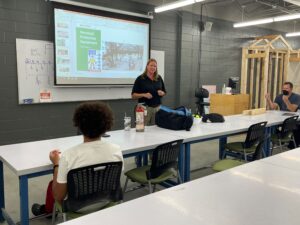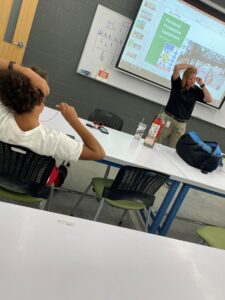 Brooke Hathaway, regional safety director in Durham, recently spent an hour with high school students at a Durham Tech construction summer camp.
The camp teaches students about welding, carpentry and other construction related trades. Hathaway spoke about the role of safety in construction, and the possibilities for a career path.  The students learned the P.A.S.S. (Pull, Aim, Squeeze, Sweep) method for utilizing a fire extinguisher. The also learned how to put on a safety harness, properly put in ear plugs and spot safety hazards in pictures and videos.
Ben Lock, director of welding technology with Durham Tech invited Hathaway to participate. Earlier this summer, the LeChase team partnered with Mid-Atlantic Infrastructure Systems to demonstrate the uses of construction equipment to students in the camp.