LeChase was proud to participate in the 2019 Durham and Charlotte MED (Minority Enterprise Development) Week activities. Since 1983, the U.S. President has proclaimed a national MED Week observance to recognize the outstanding accomplishments of minority business enterprises and to honor corporations and financial institutions that support minority business development.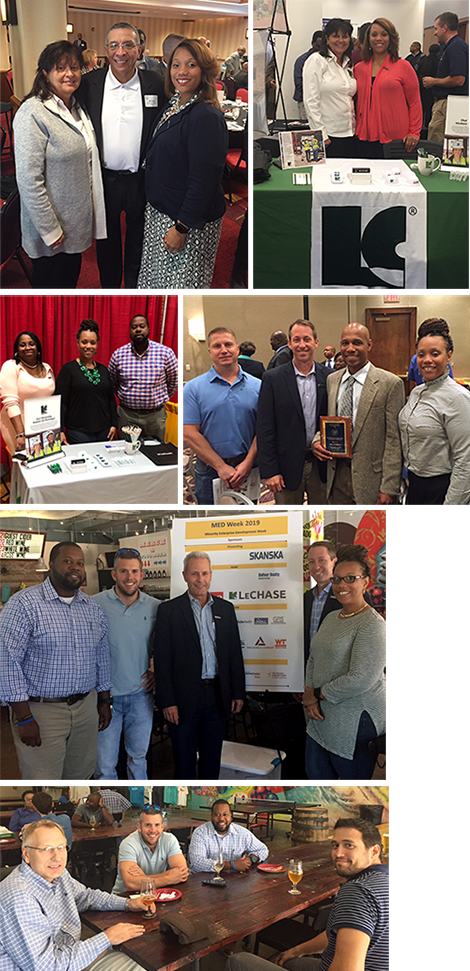 Durham's MED Week is a series of educational, outreach and recognition events. It commemorates the achievements of minority entrepreneurs and affirms government, business and community organizations' commitment to the principle of equal opportunity.
On October 8,  LeChase's Denise Barnes, Seth London, Jack Goodrich, Stephen Walls and Lori Evans attended the Durham MED Week Honors luncheon. This fantastic event featured keynote speaker Maggie Anderson, author of Our Black Year. Congratulations to everyone honored at the event, including LeChase business partner J.D. McQueen of Steel City Services – recipient of the Outstanding Achievement in Specialty Construction award.
A networking event at Hi-Wire Golden Belt wrapped up the successful MED week on October 11. This fun afternoon allowed attendees to network while taking part in games like shuffleboard, corn hole and table tennis.
In Charlotte, Denise Barnes and Barbara Lytle attended the MED Week luncheon, where a long-standing LeChase business partner – Ron Leeper of R.J. Leeper – received the Lifetime Honoree Award.
At right are photos from MED Week events in Charlotte (top row) and Durham.