On August 22, Durham Public Schools (DPS) celebrated the first students who will participate in a new Skilled Trades Pathway program at Southern High School.
The students completed their required OSHA 10 certification and have now started the program, which spans the 2019-2020 academic years. During the school year, students will learn various trades, tour job sites and visit local colleges and universities. The program will end with a pre-apprenticeship for each student in their senior year of high school.
In January, Durham Public Schools, Durham Technical Community College, LeChase and other local employers launched WayMakers. The effort aims to bring back skilled trades programs like Pathways to local schools. On October 22, LeChase team members will be guests at Southern High School to discuss construction services with the Skills Trade Pathway class.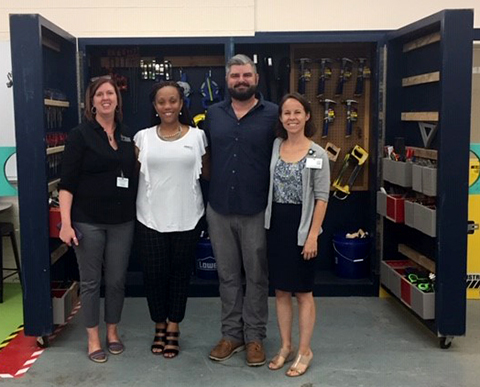 Pictured, left-to-right, are Julie Pack, DPS career technical education executive director; Denise Barnes, LeChase regional diversity manager and WayMakers co-chair; Christian Parr, skilled trades teacher, Southern High School; and Ondrea Austin, DPS lead workforce development coordinator.