Regional Connections
North Carolina

With economists pointing to signs of a recession on the horizon, it's only natural to start thinking about how it will affect our lives, businesses and communities. While no region is recession-proof, the Triangle and Charlotte have a rich mix of commerce, technology and education that provides potential to lessen the impact in our area.
Population growth is another positive factor. According to the UNC Carolina Population Center, people continue to relocate to the Triangle. Many come for the world-class universities and decide to stay – building their careers and families. Many seniors also relocate here to enjoy the "four-seasons" climate, quality health care and cultural activities.
As the number of retirees grows, development of senior-living communities should continue to be a strong market. These communities offer resort-style amenities for active residents along with a variety of health support options that enable them to stay in place as their needs change. One community we have had the privilege to be involved with over the past decade is the Cypress of Raleigh. With Villa D selling out as soon as units were available last year, we are now building Villa E, which will offer 57 more units at this award-winning residence.
Another market that has potential to help buoy the local economy is higher education. Like retirees, today's students expect more than just a place to study and sleep. They expect housing that offers amenities and convenience – leading to development of high-density buildings that are near campuses. The Blue Light, a seven-story student housing project currently under construction, is an example of modern housing that should attract students of nearby Duke University.
Of course other areas of Central North Carolina also have reason for economic optimism. The Mecklenburg County Community Pulse Report indicates it is ninth among fastest growing large counties in the U.S. in recent years. That accompanies a whopping 25% growth in jobs and makes it imperative for the area to keep up services for its residents. To that end, the community has approved a $900+ million bond for capital improvements that will take place in Charlotte-Mecklenburg Schools over the next six years.
At LeChase, we're encouraged by the diversity of development projects moving forward in the Triangle and Charlotte. Despite some uncertainty around economic indicators, public and private organizations seem to understand the need for continued investment. That should help keep our local area thriving and an attractive place to live and to do business.

LeChase recently broke ground on Villa E – the next structure in the award-winning Cypress of Raleigh retirement community.
The team from LeChase has worked with Cypress of Raleigh for more than a decade on the development. The first three villas – along with a club house and health center – opened in the late 2000s. Villa D opened in 2018. Now Villa E, which will add 57 new two-bedroom residences, is underway.
Like Villa D, the new building is a cast-in-place concrete structure with a steel-and-wood truss roof system and an exterior that features masonry, siding and shingles. Improvements in energy efficiency in the years since the first three villas were built have allowed for larger windows ­to bring more daylight into the units. Decorative balcony railings add extra visual interest to the building's exterior façade.
As part of its scope of work, LeChase meets with future residents to customize interior spaces of their individual villas.
QUICK FACTS
LeChase role: CM-at-Risk
Scope of work:

Construction of five-story villa in existing continuing care retirement community
Select coordination and customization of residential villas

Approximate size: 122,000 SF
Start: July 2019
Completion: November 2020

Earlier this year, construction got underway on The Blue Light – a seven-story student housing project that LeChase is building near Duke University. When complete, the development will be a prime location for upper classmen and graduate students looking for comfort and convenience.
The Blue Light name pays homage to the Blue Light Restaurant that originally occupied the space from 1949 to 1974. The new Blue Light will have 80 units/211 beds made up of a mixture of two- and three-bedroom apartments, along with retail and restaurant space on the first floor.
Catering to its targeted student population, it will offer bike storage, resident study rooms and a mail/package room. Other amenities will include group fitness and exercise rooms, individual unit balconies, an outdoor patio terrace, covered rooftop lounge and rooftop warm and cold-water spas.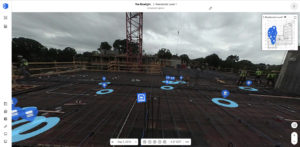 One unique tool LeChase is using on the project is the OpenSpace solution. Team members wear helmet-mounted cameras while walking the project. Afterwards, they download the photos to a web portal that – for future reference – identifies them by date, time and location. This allows the team to document placement of elements like cables and sleeves before they are covered with concrete. It also provides the owner's representatives – who are not local – an easy way to monitor progress.
The Blue Light is expected to be completed in August 2020. Click here to see an animated walk-through of the building.
QUICK FACTS:
LeChase role: Construction Manager
Scope of LeChase work:

Remediation of brownfield site
Demolition of existing structure on site
Construction of seven-story student housing building

Size: 158,822 SF
Started: March 2019
Completion: August 2020

The new Karsh Alumni and Visitors Center project merges progress with tradition.
For this project, LeChase was tasked with constructing two new buildings along with renovation of the historic Forlines House on the Duke University campus. Together, these structures form an architectural arcade reminiscent of the original courtyard on the campus. At the same time, they provide modern amenities that include a magnificent dining and presentation hall, cafe, exhibit areas and new meeting, lounge and office areas.
The largest part of the project is a striking new 20,200-SF events building – designed to be the first campus stop for returning alumni, prospective students and other visitors. Inside, a large touch-screen video board serves as an interactive tool that visitors can use to obtain information about the campus.
The second new building is a 16,900-SF two-story office for staff members who support Duke's alumni and development activities. The third aspect of the project is renovation of the Forlines House, which was part of the original design of Duke's west campus. The renovation restored the original rooms and details on the first floor and enhanced the second floor for continued use as executive offices.
Grand opening for the center will be held during the school's Founders' Weekend celebration at the end of September.
QUICK FACTS
LeChase role: CM-at-Risk
Scope of LeChase work:

Construction of 20,200-SF events building and 16,900-SF office building
Renovation of a historic 7,400-SF 1930s-era campus building

Size: 47,000 SF across all three buildings
Started: May 2017
Completion: June 2019

Having a long history with Charlotte-Mecklenburg Schools (CMS), LeChase was pleased the district selected the team of LeChase | Jacobs, in association with R.J. Leeper, as program manager (PM) for its current Capital Improvement Plan.
It's a big responsibility: CMS serves more than 147,000 primary and secondary students – placing it among the 20 largest districts in the United States.
The most recent CMS bond, for $922 million, was approved in November 2017. It covers construction of 10 new elementary schools, three new K-8 schools and three new high schools as well as 13 building renovations and other select projects. The final projects are scheduled to be completed in 2025.
LeChase's Charlotte team has partnered with R.J. Leeper at CMS since 1999. Other local partners like Enirol, who also have deep roots in and around Charlotte and Mecklenburg County, have been involved as well.
The team has now been enhanced with the addition of Jacobs, a national leader in PM services for K-12 school districts. Jacobs has a stellar track record for delivering multiple capital improvement programs of $1 billion and above. LeChase has previously partnered with Jacobs on other projects up and down the east coast over the past 10 years.
QUICK FACTS
LeChase role: Program Manager
Scope of work:

Construction of 16 new schools
Renovation of 13 additional buildings

Started: 2019
Completion: 2025